https://www.nichegolf.com/high-quality-stylish-and-modern-golf-head-covers/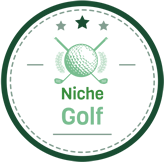 Golf Head Covers that are Stylish, Creative and Protective of Your Golf Clubs! 
There is lots of variety in the traditional head cover golf arena, yet few stand out. I've never been the type to use the basic head cover(s) that comes with my woods or putter so why start now. Even better I've found a really-cool company that makes head covers that are different than all others 
The company is Skot Golf, and they started out as a "cut and sew" shop and have turned it into one of the top-notch head cover golf club companies. Everything is made in the USA and they use 4 different machines to manufacturer their stylish and durable head covers. 
The best thing I can really do is show you some of their unique head covers so you get a taste of what they can do. Obviously, this is only a tiny sample, in addition Skot Golf also offers customized head covers so if that is of interest just reach out to them anytime. 
Here are the specs of one of their barrel style of golf head covers.... 
Made by hand in the USA, at our cut and sew shop in Detroit, Michigan. Quality matters. 
Barrel style 
UV coated, water repellent and mildew resistant sub dye Heavy Duty 600D fabric. 
Additional PU coated backing liner. 
Black Sherpa lining, with zig zag stitched elastic. 
Re-enforced stitching with heavy duty thread. 
Fits most modern drivers (460cc) fairway woods. 
Driver Headcover Dimensions: 12 x 5.50 inches. 
Fairway wood headcover dimensions: 10.50 x 5 inches. 
Spot clean, hand wash, air dry. 
Made in the USA.   
Each head cover may have similar but not the same dimensions, so if you need exact dimensions, please review the dimensions of the specific head cover you are interested in.  
Bottom line, the Skot Golf head covers are awesome. Their variety of styles, quality, and golf club protection is excellent. Their interior lining when they use the Sherpa lining is the nicest I've ever seen, and I've seen plenty in my time.  
 The company website is
www.skotgolf.com
and I highly encourage you to look around for yourself or as a gift for any golfer. You will be amazed at the assortment and creativity of head covers Skot Golf offers.